About Rupert Jee and Hello-Deli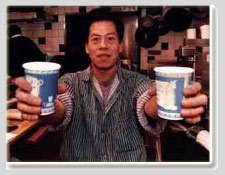 Born and raised in the USA. Parents are from China.


Was in the varsity High School golf team; voted most improved player (I was real bad).


Received a degree in economics from City College.
Rupert say's: "Ever since I was a kid I have always dreamed of owning a deli/fountain shop. Maybe it was because I enjoyed food so much. My dream did eventually come true but I never thought it would end up on television."
Rupert enjoys playing Ping Pong, surfing the Web, fishing, and trading the stock market.